News
by
Savy Soda
(6 user ratings)
$0.99
Download size: 2.86MB
Version: 2.6
Released: 2012-04-07
For ages: 9+
Read all your favourite news, magazines LIVE on one App!


This is a news reader for the astute, the free thinkers. For those of us who don't want to be told what to read and won't settle for one point of view. Unadulterated, up to the second live news. Choose from thousands of sources ranging in topic and locale that suits your interest. Information arranged beautifully in one screen for daily viewing pleasure. No accounts of any type required.


KEY FEATURES:
☆ Super fast loading of up to the second live direct feeds
☆ No accounts (google, yahoo, etc) of any type required
☆ Discover new sources, share interesting articles


News App is a new, revolutionary RSS Reader exclusive to IOS. News allows you to easily read ALL your favourite newspapers, magazines, blogs, RSS feeds in a SINGLE screen! All feeds are LIVE, INSTANT, and FREE.


News App will collate news feeds from your selected sources and compile them into one easy to read list. Articles are presented quickly and beautifully. Some people say it feels like reading a real newspaper!


We've got news from around the world for you to choose from including CNN, BBC, CNBC, NYTimes, USAToday. There's magazines from Bloomberg and Reuters to Top Gear and Mashable.


You can tag your favourite feeds and be alerted via push notification when news alerts are updated.


You can even share interesting articles you like to Twitter or Facebook with one tap! Email to your friends or interest groups instantly. You can even discuss news with your friends or the general public.


You don't need a google account, or any type of pre existing RSS account to use this RSS reader. The user interface is super easy, there's only one button to press to add your favourite newspapers and magazines!


Unlike apps such as Flipboard or Pulse that try to make you read from certain publishers; we give you the choice to subscribe to any publisher that offers an RSS Feed. We don't try and guess what articles your interested in. You get to choose it yourself within a few taps and then your away reading only your selected feeds!


Stop loading up multiple web sites and apps manually. Save many minutes a day, and save unnecessary stress by using this one great App to read ALL your news!


See: http://www.savynews.com for details!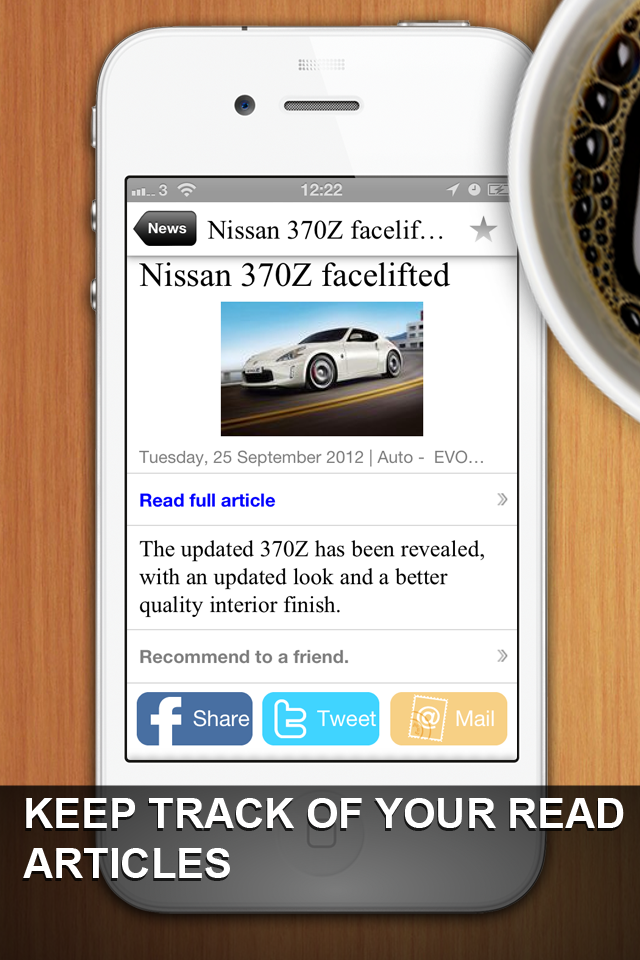 Customer Reviews
Love this app
by Ncms85713
No more paying for multiple newspaper subscriptions. No more searching the web for news. Every newspaper, all news...politics, fashion, world, entertainment, business, finance, etc., its all in this app. I love it.
One and only!!!
by hallway
This is the only news app youll ever need. Tons of feeds.
I love it!
by Lvddrint
Great tool to access to many news sources.
Disappointed
by Not better1 23
Does not show more than one custom feed, even though several are set up. Emailed developer for advice....no response. Please fix problems.
News
by Claude Huggins
Great quick fast access to any story that I am interested in
News - Just okay
by RealCustomer74
Would be a great app if it didn't keep removing my custom feeds and adding news selections I've never chosen on its own! Frustrating!
Great!
by Supermaye
All the news I need in one place
Great app design
by Matt13286
Only problem is that the app keeps resetting to default feeds and deleting the custom feeds I created
Great news app
by Mrdvdlee
Everything I need
Super
by SourpSourp
Super duper.
Works
by Wvspeedy10
Very easy to use and does what it said it would do
Great app
by Reg05
Simple way to catch up on news. No crashes.
So far so good
by speciman_A
No crashes, simple interface.
Love this site!
by 2xcv
I like the ability to chose the categories and sources I want to see. Tis is one of my frequent go to apps.
Almost Perfect
by gh0stwrld
Some feeds are dead. Others are not optimized for iPhone viewing. That's more an issue with publishers. Other than that, this is pretty much the only news app I can find that has so many national and international publication feeds available.
Great news app
by splash1950
My go to app for news.
Dd
by Styles713
Very nice keeps me updated
Excellent EASY
by Hsbnkt
Good one
Pretty good, almost great
by Myaushka
I needed something to open RSS feeds from mobile Safari while my favorite app, Reeder, adjusts to the Google Reader situation. This one is the best I've found so far, after trying a few others. It displays the full article well, and doesn't put too much chrome around it. It is also nice to be able to add new feeds right in the app. Thank you! On other side, for me, News lacks a few user interface features and the polish of Reeder, so I'll probably switch back if Reeder becomes a standalone RSS reader. The paid version of News has no ads, so it's well worth the 99c. Who wants ads in their feed, especially if the original site has none?
Good RSS app!
by joeholl1979
There are a few things I wish this app could do, but over all it's my favorite RSS reader!
Brilliant!
by iCalvin1
This is the absolute best way to get the best of news, politics, sports, entertainment headlines and stories from across the country and around the world. Plus the RSS feed reader is easy to use and quite accessible.
Great for all News!
by Flyingorlando
Love this app! Keeps me updated in a very nice manner. Easy to set up and use, good screen layout!
Great app
by Desear
Easy to use. Lots of news choices.
Great App!!
by Journious
Great app for top news of your choice. Only reason I didn't give 5 stars is because of news from some sources like "Barron's" only gives you headliners without paying for subscription. I understand they need to make money but its a waste to add them unless you pay.
News you can easily share
by BusyOak
I like this App and highly recommend it.
Great App!!
by Erniefish
All the news at one place
Awesome app
by H2O Captain
All in one news app for global news, great for staying up to date.
Great app
by AdventurerDreams
All in one... News and magazine! :) hope there's weather too though.... LOL
Very good app
by DC Dennis
Tried the free app and liked it so much I bought it.
Ausome
by Tonyandkatiepcola
Best app on my phone, great
Excellent News App
by TCapple
I rarely write reviews anymore - but this app has changes my news reading habits. Simple to set up, and a wider range of news feeds available than any of the other 9 news apps I already had on my iPhone. Faster at updating feeds, and no crashes or bugs that I've encountered. Maybe there is room for improvement (the AP feed seems to deliver HTML header information that is meant to be hidden), but its the best in the App Store, and deserves 5 stars.
Review
by Davidclu
I am very pleased with this Dallas newspaper app. I can finally resd Evan Grant's articles about the Rangers
must have a Facebook account
by G_APPSEEKER
The app itself is great until you accidentally tap on the FB icon...you cant get back to your news...permanently stuck in facebook. Some of us arent fans of FB....
Get it!
by RudtyNales
For news junkies only!! Don't miss out!
Love this app
by Bam cap
I am loving this app. It makes it so easy to stay informed.
Simply Wonderful....
by Scrabguyble
Great news App if your a casual reader or a news junkie, enjoy😄
Better...but still needs work.
by TTUredr8der
This is a revision to my previous review and 1 star rating. To their credit, an update was released quickly that fixed many (but not all) its issues. They seem responsive to user feedback and seem committed to improving it. Still, the app just isn't great. However, it's good and getting better if they continue working on it. The app is a great concept and has a wide selection of great news sources, just poor execution in some areas. I will change rating to 5 stars if/when update(s) are released fixing all usability/interface issues along with adding a few changes to make the interface more intuitive and user friendly. All negatives aside, I think it's still worth downloading but would probably wait on getting the paid version until all the bugs and user interface annoyances are resolved. 1) Favorites button appears to do nothing except crash and/or freeze the app. There is no favorites folder to navigate to, no page displaying articles I'm following, and no indication it could even support storing such info within the app. There is a star at the end of your selected sources list (if scrolled to the far right)..but it does nothing. 2) The left/right scrolling source selector isn't intuitive nor can the order be customized. The top of the page is wasted with a Facebook icon on the top left, wasted space in center top, and a "+" icon button for source selection. Overall navigation within the app isn't intuitive and makes for a user experience that is, well......frustrating enough for me to take entirely too much space in writing a review. This is what they could improve the most upon (other than bug fixes so it would function properly as is). The top of the app should be removed and replaced with a navigation toolbar at the bottom of the screen. The "+" add/edit source button should be removed and instead included as a separate menu page by including it as 1 of at least 4 menu icons on the navigation toolbar. A toolbar along the bottom could include icons for pages (or separate menu screens) such as SOURCES, FAVORITES (saved articles) SHARING (email article/add to reading list/Facebook, etc) and an in app SETTINGS menu (options, notifications, app feedback, miscellaneous) for source selections and other user options/preferences. Each icon on the toolbar navigating to a separate page or menu that scrolls top to bottom. 3) The app displays notifications without the ability to view them without manually scrolling to find the article reference in the notification. Sliding the notification to the right from within the iPhone notification center opens only the app, not the article. The red bubble notifications that appear over the app icon from the home screen are not easily dismissed. 4) Article headlines have a little tag that reads "new unread". Clicking on the headline to view the article summary (when one even exists) removes this to show that an article has been read. If you exit the app (or it crashes), it doesn't save the read articles and thus you have a ton of unread articles (each counted as an unread notification for the red app alert bubble). Also, it would be easier if read vs. unread were identifiable by a difference in font instead of (or even in addition to) the little corner tags. This would allow users to scroll quicker through content without diverting their eyes away from the headlines. (Example: unread/new appear as the do in bold, black font, with read article headlines displayed as light grey/blue,etc. (like a website/email link that was used) 5) Not all articles have a summary page (but instead go on directly to the article's external news site). Assuming the favorites featured worked, there would be no way to save these articles since the favorites button is nowhere to be found...another reason to have a new toolbar menu so this feature doesn't have to be written into the code for each article. 6) There is no ability to delete or dismiss articles or marking them as read. It would be awesome if there were an edit button to hide articles to clear out the clutter or simply mark them as read (similar to checking your email on an iPhone). 7) It says all content is free, however, the Wall Street Journal is now requiring a subscription. I happen to have one although I have not attempted to login within this app. So unless this is a temporary glitch, it is a little misleading to say all content is available for free.
Exactly what I was looking for
by Lelibugs momma
So happy I found this app. Love how you can choose what you want to see, too. Highly recommend.
Needs opinion pages
by Periodic chart
This app dissappointed me. It would earn more stars if it had the option of opinion pages. Also , loading of some content is clunky-- takes multiple tries to get the entire article. Three stars may too many-- more like 2.5.
Great app!
by Gadog76
Good summary info
Excellent!
by Seawisey
This app is great for news junkies. I enjoy quickly reviewing news from around the world targeted just to my wide-ranging interests. (I read in English, German and French). The app makes it very easy to do. When an item strikes my fancy I take a deep dive into the article. Very efficient.
So far I love it
by Teepern
Only been using it for two days but so far it's really great. I love that I can choose which news feeds I receive! Great app. Thanks
Great app
by Reader George
Great way to keep up with important news from around the world.
Best news source in the App Store
by Jersey Husker
This all-in-one app is incredible--no limit to the number of selections or newspapers you can access from a very versatile collection. Not just a great news app, but one of the best apps available PERIOD.
Great app.
by StanTheMan Shen
Easy access to miscellaneous stuff at the same time.
great app
by juliet23230
amazing to be able to read so much news from around the world so easily.
News
by Thomas Krzeminski
Super app! I use it every day. It's my main source of news.
Great App!!
by SAALMA
Latest news at the palm of your hand!
Excellent APP
by Gary Dumas
Works very well keeps me well informed. Had my daughter sign up who's in college for journalism to stay informed
Good app!
by Maizq
Good,good! News in every where and on time!